Perfume has gone to the dogs
Oh, my dog! Now pet owners can get even more intimate with their loved ones by wearing the same perfume with their cat and dog.

Dog Generation Paris has designed the first ever prestige fragrance for dedicated dogs and frisky cats.
The French company offers an eau de toilette spray and a shampoo ("Oh My Dog! Eau de Toilette Spray and Shampoo") for dogs, and an eau de toilette ("Oh My Cat? Eau de Toilette Spray") for cats.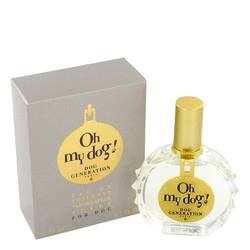 "Pet lovers may not always admit it, but they often share everything with their canine or feline friends, from their bed pillow to their favourite dish," says Veronique Viellerobe, public relations for Dog Generation Paris. "Humans can now share and wear the same perfume with their dog or cat."
The creators of the perfume and shampoo are two former Parfums Givenchy executives, Laurent Jugeau, Etienne de Swardt, and Olivier Echaudemaison.